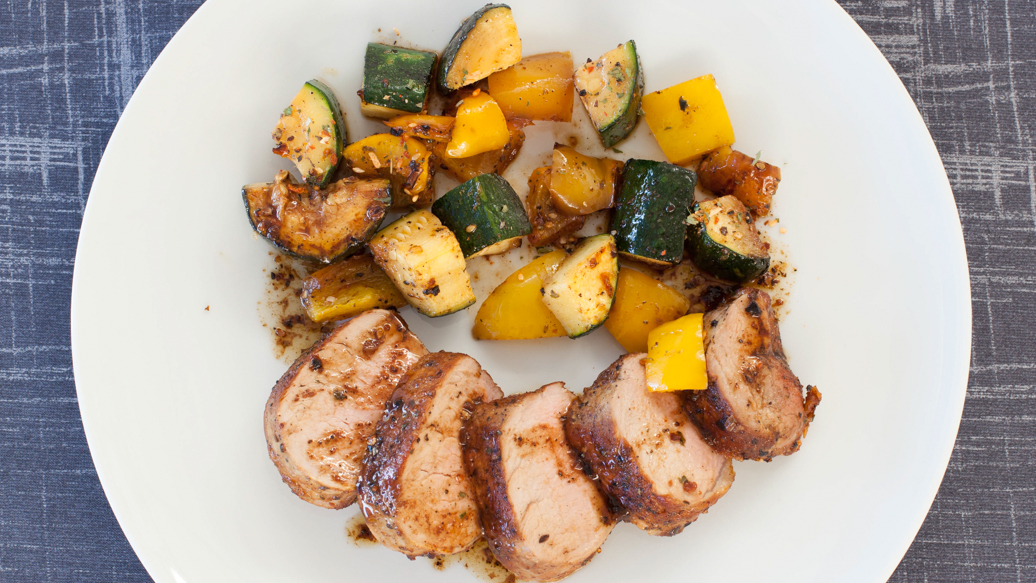 https://epicure.com/en/recipe/5046

MAKES: 4 SERVINGS

1 lb (454 g) pork tenderloin, cut into two
Sea Salt (Grinder), to taste
Black Pepper (Grinder), to taste
1 Tbsp (15 ml) olive oil
1 bell pepper, coarsely chopped
2 small small zucchinis, coarsely chopped
3 Tbsp (45 ml) Baba Ghanoush Seasoning (we substituted Souvlaki Seasoning)
Juice of half a lemon

Preheat oven to 400° F (205° C).
Rub pork tenderloin with Sea Salt and Black Pepper.
Heat olive oil in an Fry Pan over medium heat. When oil is hot, add pork tenderloin and sear until browned. Flip over. Add vegetables and sprinkle with Baba Ghanoush Seasoning.
Place in oven and roast for 15–20 minutes or until meat reaches a Food Safe temperature of at least 145° F (63° C)
Squeeze lemon juice over pork and let rest for 5 minutes. Slice and serve.