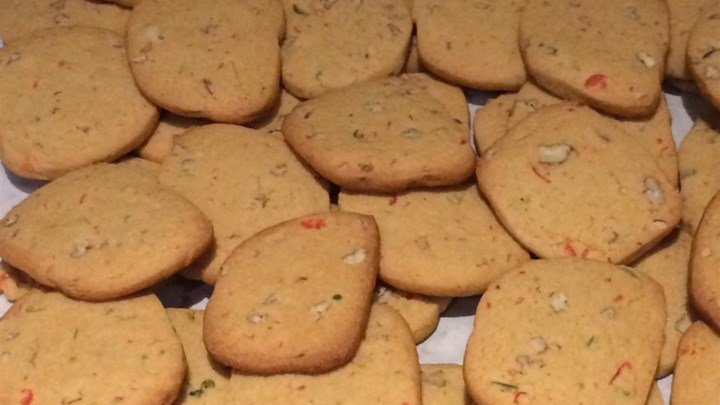 2-1/2 cups sifted enriched flour
1-1/2 tsp baking powder
1/2 tsp salt
1 cup butter or margarine
1-1/2 cups sugar
1 egg, beaten
1 tsp vanilla
1/4 cup chopped candied cherries
1/4 cup chopped or broken pecans
1 ounce (square) sweet milk chocolate, melted.
Sift flour, measure; sift twice with baking powder and salt.
Cream butter until soft and gradually blend in sugar. Add egg and vanilla, and beat vigorously until smooth and fluffy. Add flour mixture and mix thoroughly.
Divide dough into 3 portions. Add chopped cherries to one portion, and nuts and chocolate to the second. Roll each portion into rolls about 1-1/2 inches in diameter. Wrap each roll in wrap paper and chill several hours in the refrigerator.
When ready to bake, slice very thin. Place on buttered cookie sheets and bake in hot oven 400F about 10 minutes or until delicately browned.
Dough can also be placed in a cookie press and pressed into fancy shapes on buttered cookie sheets. Bake at the same time and same temperature as those that are sliced.
Makes about 8 dozen thin cookies.