I was asked the other day if I JUST share recipes or if I have actually made them. I have made or tasted (if a friend was the cook) ABSOLUTELY every recipe on this blog. In fact, I often make notations of changes I made or might make and if dear hubby (the fussy eater) likes it.
This recipe is the one I use when I run out of Jiffy corn bread (my favourite corn bread in the world but only available in the US now).
1 cup all-purpose flour
1 cup yellow cornmeal
2 tsp baking powder
1/2 tsp baking soda
1 tsp salt
1 cup milk
2-1/2 tsp lime or lemon juice
1 egg, beaten
2 tbsp lard, melted
Combine flour, cornmeal, baking powder, baking soda and salt in a bowl.
Mix milk and lime juice, add to dry ingredients along with egg and lard. Mix well, but do not beat. Pour into a greased 11 x 7 x 1-1/2 inch baking pan.
Bake at 450 degrees F for 15 to 20 minutes, or until it is brown and tests done. Cool slightly and cut into squares.
About 8 servings.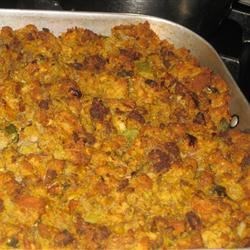 And this is a delicious stuffing perfect for pork or poultry:
extra-virgin olive oil
1 large onion, small dice
3 ribs celery, small dice
kosher salt (I just used table salt)
1 pound spicy sausage, casing removed, broken into bit-size chunks (I used spicy Italian sausage)
3 cloves garlic, smashed and finely diced
3/4 cup coarsely chopped walnuts
10 sage leaves, finely chopped
3 sprigs rosemary, leaves finely chopped (fresh from my garden)
10 cups stale cornbread, cut into 1-inch cubes
2 cups dried cranberries
3-4 cups chicken stock (I used homemade turkey stock from my freezer)
Preheat the oven to 350 degrees F.
Coat a large saute pan with olive oil, add the onions and celery and saute over to medium heat. Season with salt and cook until the vegetables start to become soft and are very aromatic. Add the sausage and cook until the sausage begins to brown. Stir in the garlic and saute for another 1-2 minutes. Add the walnuts, sage and rosemary and cook for another minute, then remove from heat.
In a large bowl mix together the cornbread, cranberries, and the sausage mixture. Add chicken stock and knead with your hands until the bread is very moist, actually wet. Taste to check for seasoning and season with salt, if needed and transfer to an oven proof dish. Bake the stuffing until it is hot all the way through and is crusty on top, about 30 -35 minutes.