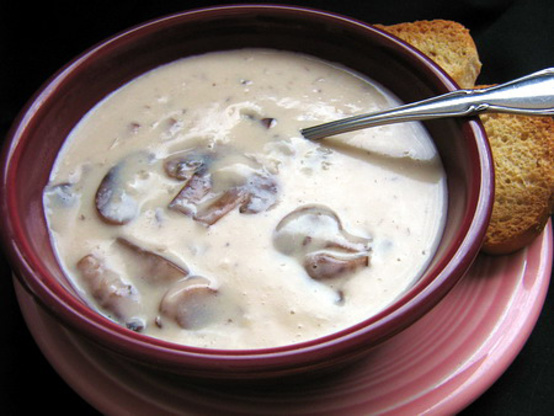 Source: Canadian Living Magazine: October 2004

Ingredients
2 tsp (10 mL) extra virgin olive oil
1 onion, chopped
6 cups (1.5 L) sliced white mushrooms or cremini mushrooms, (1 lb/500 g)
6 garlic cloves, minced
1/2 tsp (2 mL) dried thyme
1/4 tsp (1 mL) salt
1/4 tsp (1 mL) pepper
1/2 cup (125 mL) all-purpose flour
6 cups (1.5 L) chicken stock or vegetable stock
3 tbsp (45 mL) lemon juice or wine vinegar
1 cup (250 mL) 5% cream
1 tbsp (15 mL) finely chopped fresh chives or green onions

Preparation

In large saucepan, heat oil over medium heat; cook onion, mushrooms, garlic, thyme, salt and pepper, stirring occasionally, until liquid is evaporated, about 8 minutes. Sprinkle with flour; cook, stirring, for 1 minute.

Gradually stir in stock and lemon juice, scraping up any brown bits; bring to a boil. Reduce heat, cover and simmer for 10 minutes. (Make-ahead: Let cool for 30 minutes; refrigerate in uncovered container until cold. Cover and refrigerate for up to 24 hours. Reheat over medium heat.)

Stir in cream; heat until steaming but not boiling. Serve garnished with chives.
My notes:
I made this soup the other night using white mushrooms I found on the "hardly used nearly new rack" at Superstore. I'm not a fan of mushroom soup but I really enjoyed this one. Hal is a fan.