From About.com . . .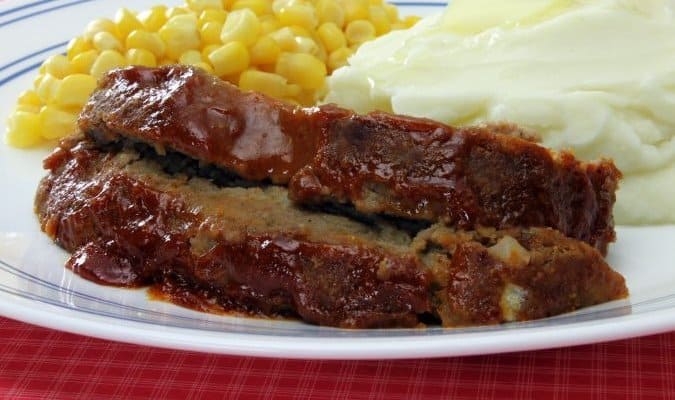 Ingredients:
2 teaspoons butter
1/4 cup chopped onion
1 1/2 pounds ground round or ground sirloin
1 cup quick-cooking rolled oats
1 cup tomato juice
1/2 cup barbecue sauce, divided
1 egg
1 teaspoon Worcestershire sauce
1/4 teaspoon salt
1/4 teaspoon pepper
1/2 teaspoon garlic salt
Preparation:
Heat oven to 350°.
Heat butter in small skillet over medium-low heat. Add onion and sauté until tender.
Combine cooked onion, ground beef, oats, tomato juice, 1/4 cup barbecue sauce, egg, Worcestershire sauce, salt, pepper, and garlic salt. Stir until well blended. Press into 9x5x3-inch loaf pan or meatloaf pan.
Bake at 350° for 50 to 60 minutes. Remove from oven and spread remaining barbecue sauce over top. Return to oven and bake 10 minutes longer.
Remove from oven and let stand 5 minutes. Place loaf on serving plate. Slice and serve.
8 servings.
Okay . . . in our case, the recipe only feeds 4 apparently. Of course, Tim was over for supper . . . LOL . . . and the couple of slices leftover became a sandwich for me later.