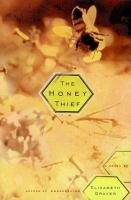 I'm getting a lot of reading done lately. I just finished The Honey Thief by Elizabeth Graver. First . . . what's good about the book . . .
Graver does an interesting job of introducing the characters a little at a time, sharing all their goodness and all their flaws as well. You become involved with the lives of the little girl, her mother and the bee keeper very quickly. And you really want things to work out for them.
My one complaint, if you want to call it that, is that I wanted the book to continue. Is there a second volume in the works? Please?