SATURDAY, MARCH 1, 2014
Today's Writing Prompt: So What Do You Do?
What do you spend most of your time doing - when you're not writing, of course!
Most of my time is spent working on various projects, trying to keep my apartment clean and spending time with my family and friends.
March is . . .

Irish American Month
Music in Our Schools Month
National Craft Month
National Frozen Food Month
National Irish American Heritage Month- designated by Congress in 1995.
National Nutrition Month
National Peanut Month
National Women's History Month
Red Cross Month
Social Workers Month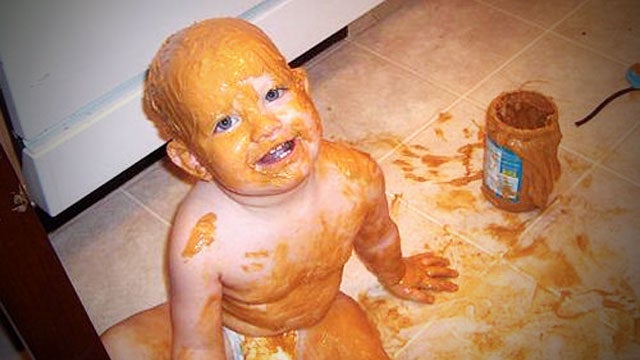 National Peanut Butter Lovers' Day
When : Always March 1st
Today is a sticky day. National Peanut Butter Lover's Day salutes America's favorite sandwich spread. What kid didn't grow up loving a PB&J sandwich? It's a staple in our house.
Smooth Peanut Butter is by far the most popular. Crunchy peanut butter is also on the market, and is enjoyed by many. Peanut Butter is not limited to a Peanut Butter and Jelly (PB&J) sandwich. It's popular on crackers, celery and other "peanut butter" holders. It is also used in recipes for cookies and snacks. And, don't forget peanut butter candies, too!
Did you Know? Peanut Butter is 90% or more peanuts. While it has no artificial preservatives, an opened jar is stored on a shelf at room temperature.
Celebrate today with a little (or a lot) of Peanut Butter. If you can, make your own Peanut Butter. Its a fun project that the kids will enjoy doing with you.
Note: If you don't get enough peanut butter today, April 2nd is
National Peanut Butter and Jelly Day
. and September 13th is
National Peanut Day
.
2010 - March 1 - Olympics - Canada ends the Olympics with 14 gold medals, the most for any country (host or otherwise) in any Winter Olympics. The Canadian Olympic team also wins the most medals it has ever won – 26. In the medal tally, the U.S. comes first with 37 medals, also the most for any country (host or otherwise) in any Winter Olympics. The closing ceremony starts at 5:30 Pacific Time at BC Place Stadium. At the closing show, Michael Bublé, Neil Young, Avril Lavigne, K-os, Nickelback, Simple Plan, Hedley, Marie-Mai and Alanis Morissette perform, and William Shatner, Catherine O'Hara and Michael J. Fox also appear. The Olympic flag is given to Mayor Anatoliy Pakhomov of Sochi, Russia, host of the 2014 Winter Olympics. Vancouver, BC
Source:
http://canadachannel.ca/todayincanadianhistory/index.php/March_1