I did not write this article. I am sharing part of it because I think it is really well done. I hope you will follow the link at the bottom of the page to read more . . .


HOW TO START AN ART JOURNAL
STEP BY STEP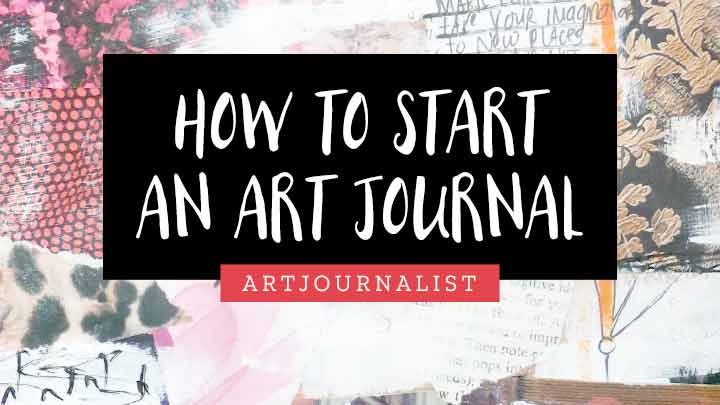 Wondering how to get started with art journaling? In this post we'll go over everything you need to know to learn how to start an art journal step by step.
Whether you're already a paper crafter or planner addict – or even if you've never touched a paintbrush in your whole entire life – you can learn how to start an art journal!
The best part? It doesn't have to be completely overwhelming – or even cost a lot to get started!
THERE IS ONLY ONE THING YOU NEED TO KNOW ABOUT STARTING AN ART JOURNAL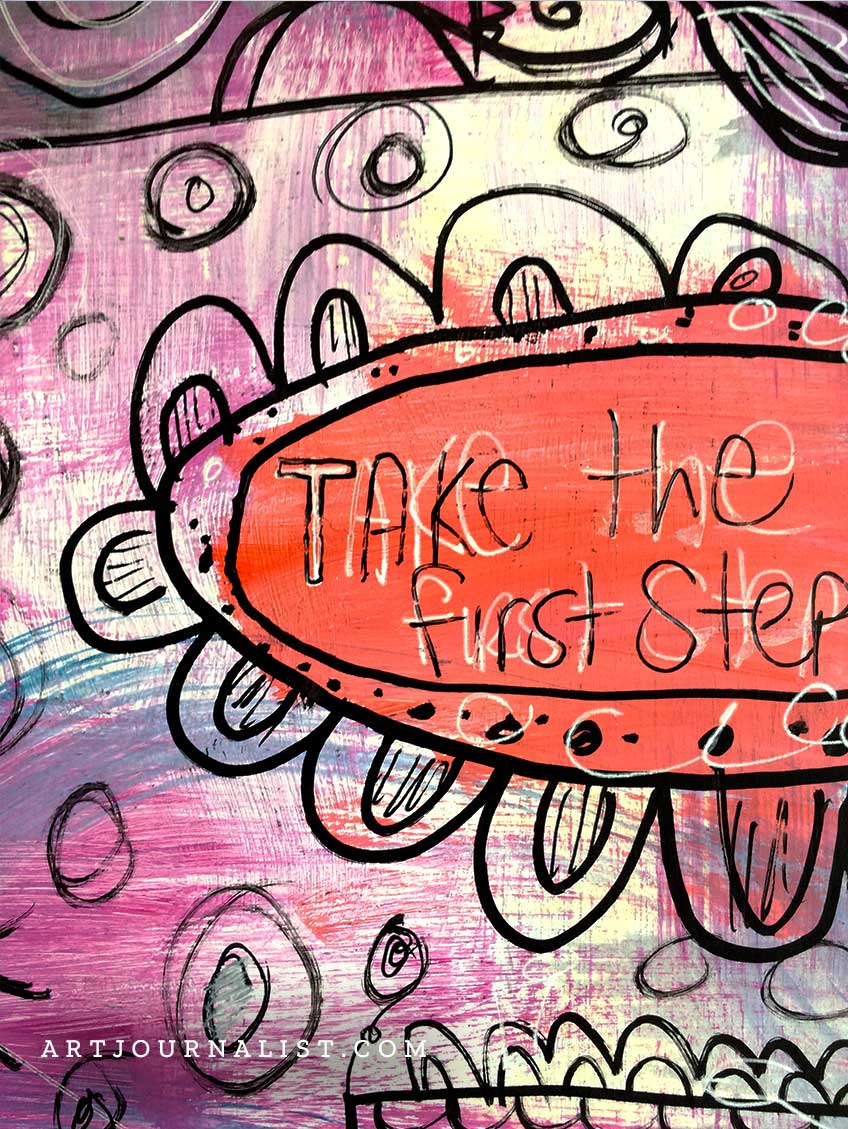 What is this one thing you need to know? You need to know

THERE ARE NO RULES!

Truly, no rules. There is no "right" or "wrong" way to get started!
Many people all around the world enjoy art journaling – and as you explore more into this fun and good-for-your-happiness activity, you will find there all sorts of styles out there.
Some art journals are like sketchbooks, some are like diaries, some are like smashbooks and scrapbooks, some are a mish-mash of everything, some are perfectly organized and neat.
All of them are great, all of them are perfect – because your art journal is YOURS. It is not up to what anyone else's opinion on what should be in it or what you create!
Your art journal is your place for creative expression – and so you should do absolutely whatever makes you happy and toss all reservation out the window. Don't worry if it's good enough – because if you enjoy the process, it most definitely 100% is perfect.
So, yes, there is only one thing you really need to know about starting an art journal:

There are no rules!
The emotional and stress-relieving benefits are many, and the more you create in your journal, the more beautiful your pages will become with time and practice!
FIRST THINGS FIRST: HERE'S WHY YOU SHOULD START AN ART JOURNAL
Starting an art journal can be a very freeing way to express your creativity, work through thoughts and ideas, and experiment with new creative techniques. Learning how to create an art journal can give you a place to really explore your creativity!
Your art journal is your own private and personal space where you can write, draw, and create almost anything. It can be extremely freeing, because there are no limits.
Your journal pages can be about anything – from the playful silly to the contemplative and serious.
Here's a Couple of Ways I Use My Art Journals – And the Benefits
#1: TO WORK OUT THOUGHTS AND FEELINGS:
Ever have one of those Terrible, Horrible, No Good, Very Bad Days? They happen to all of us every now and then – sometimes it feels like more than just now and then!
Art journaling can give you the space to get all of those feelings out and express yourself, rather than bottling all of those heavy emotions up inside.
#2: DREAM, PLAN AND SET GOALS: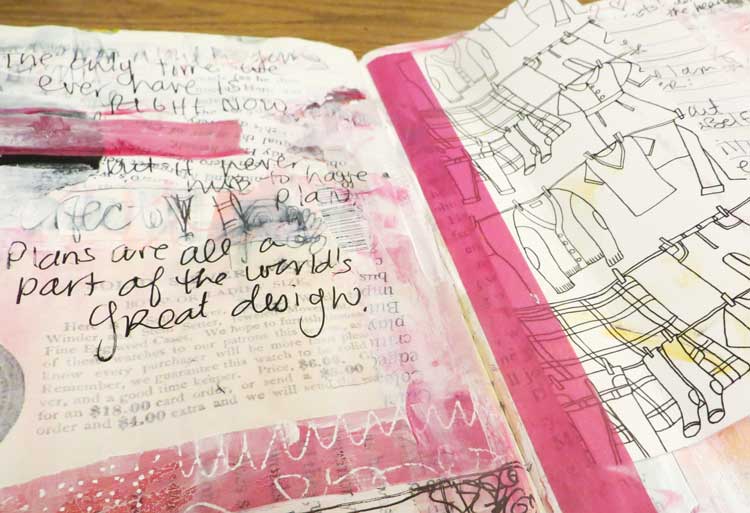 Every project I've ever started and goal I've reached successfully has had their humble beginnings in an art journal.
I've used art journals to plan events, organize my house, create business plans, set financial goals, and even for reaching my own personal health and fitness goals!
I've used art journals as planners so often it is actually what inspired me to write the post about planner theme ideas. There's a creative planner idea for everything!
Something about being able to create freely can really help you overcome potential obstacles and see a path ahead to moving forward to where you want to be in life!
#3. TO AWAKEN YOUR CREATIVE SELF:
Many people who start an art journal for the first time do not consider themselves artists, or even creative.
However, I truly believe all of us are creators – even if we do not feel that way!
An art journal is an easy way to help you connect with that inner artist and awaken your creative gifts that you may not even be aware you have yet.
#4. FOR PERSONAL DEVELOPMENT AND/OR SPIRITUAL GROWTH:
Art journaling for me is a wonderful way to do some reflective thinking and grow both personally and spiritually.
It can be enlightening to explore your own personal beliefs and deepen your own personal understanding of this great mysterious thing we all know as life.
You can also use art journaling to help develop your own intuition or even explore your own spiritual gifts.
#5. TO PLAY AND HAVE FUN!
Something we often miss more and more as we get older is playtime.
Between busy hectic schedules, and all those pesky adult responsibilities like having to pay the bills and clean the house – making some time for just totally pointless fun and play is so important!
I love getting together with friends for creative art journaling get togethers, as well as exploring new techniques in my art journal that are simply just a big giant mess of fun.
So, yes, these are my top 5 reasons for WHY I believe art journaling is so important and beneficial!
And I realize we haven't even gotten into the basics of how to start an art journal yet – but I think sometimes having a clear understanding for the intentions or even the reason for creating your own visual journal can help make the process so much easier in diving in!
Now that we have our why, we're ready to start creating! Let's get into this step by step tutorial, shall we? 🙂
---
HERE'S HOW TO START ART AN JOURNAL STEP BY STEP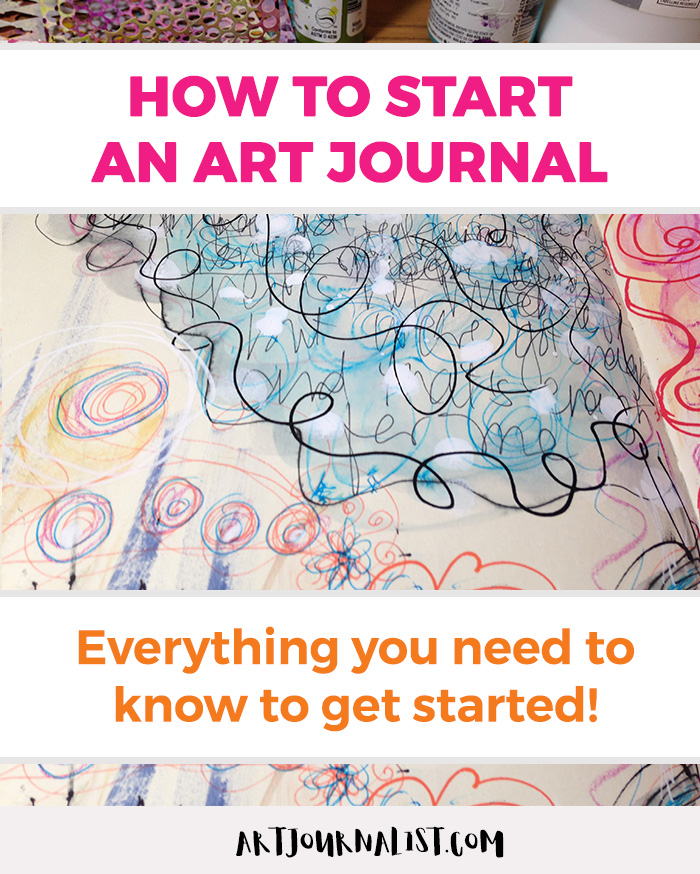 Learn more here . . .