A few days ago I took a "quiz" on Facebook to determine how many of the top 250 movies of all time I had actually seen. I scored 100 out of the 250 movies that were listed. If I was unsure about seeing a movie I didn't check it off so my score could possibly be much higher.
And then I started thinking that perhaps instead of binge watching old TV series I should binge watch movies. I decided just to take on the top 100 movies for a starter. Now I'm very sure I am going to agree with quite a few of the entries on this list but I already know I'm going to argue about a few as well.
So here is #100 of the top 100 Movies of all time according to IMDB:
Yankee Doodle Dandy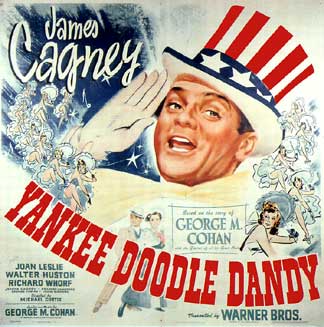 Released in 1942, it is pretty clear that this film was an important propaganda piece for the United States. But it is also a great song and dance movie with a little romance thrown in as well.
Star of the show, James Cagney, plays George M. Cohan, a famous composer, playwright, actor and song and dance man. It is definitely interesting to watch James Cagney play this part when he is usually a "bad guy." I am pretty sure I've watched this movie a few times in the past and I truly did enjoy watching it again.
As I was watching the credits at the end of the movie I saw the name Jeanne Cagney who played Josie Cohan, George Cohan's sister. A quick google proved that Jeanne is indeed James Cagney's sister in real life.
Yankee Doodle Dandy wan nominated for 8 Oscars and Won 3 . . . for leading actor, music and sound.