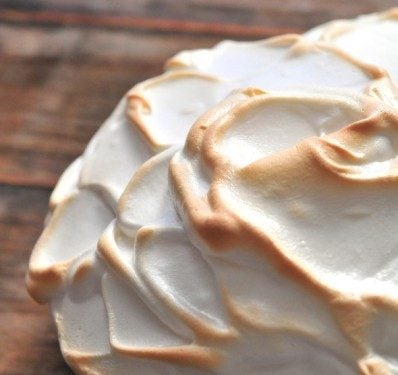 For 9" pie:
3 egg whites
1/4 tsp salt
6 tbsp sugar
1/2 tsp flavouring (eg. vanilla), optional
For 8" pie:
2 egg whites
1/4 tsp salt
4 tbsp sugar
1/4 tsp flavouring, optional
Beat the egg whites with salt until frothy. Whites will whip fluffier if they are at room temperature.
Then beat in sugar, 1 tbsp at a time. Beat until meringue is stiff and glossy. The meringue is ready for the pie when the sugar has dissolved and the meringue is stiff enough to hold a point, yet still looks moist.
Add flavouring, if desired. Beat only enough to blend.
Swirl meringue lightly on pie, sealing to edge of crust to prevent shrinking.
Bake in moderate oven 350F for 12-15 minutes, until delicately browned.