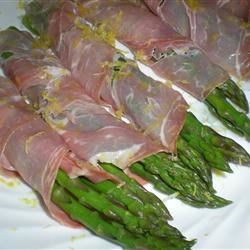 Prep 15 m
Cook 10 m
Ready In 25 m

"This cold asparagus dish is tender, tasty and easy to create. The zesty lemon and the salty prosciutto work perfectly together to add wonderful flavor and great presentation to a vegetable that many are cautious to try. I have had people who normally turn their noses up at asparagus thoroughly enjoy this side dish."
Ingredients
1 pound fresh asparagus, trimmed
1 (3 ounce) package prosciutto
1 tablespoon lemon juice
1 teaspoon lemon zest
Directions
Bring a large pot of lightly salted water to a boil. When the water is boiling hard, add the asparagus and cook until tender but still crisp, about 4 minutes. Quickly drain the asparagus and plunge into a bowl of ice water to stop the cooking and maintain the bright green color. Drain again and pat dry with paper towels.
Separate the asparagus into 5 small bundles and wrap each one with a slice of prosciutto. Sprinkle each bundle with lemon zest and lemon juice.
From https://www.allrecipes.com/recipe/149735/cold-asparagus-with-prosciutto-and-lemon/print/?recipeType=Recipe&servings=5&isMetric=false